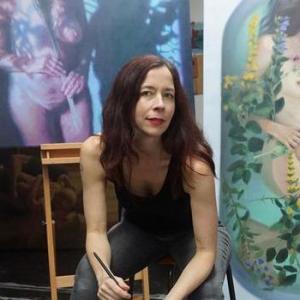 Francien Krieg



Obras en Venta
Obras en Exposición
Francien Krieg was born in the Netherlands, she followed monumental design on art academy The hague. Her work is in the Tullman collection Chicago, ING collection Amsterdam, Formal Scheringa collection, mohlman museum collection, van Lien collection and many private collections. Her work was exhibited at the MEAM museum Barcelona, Wausau museum the US , Scheringa museum NL, and Mohlmann museum NL, also she was working with gallery Mokum, gallery Beinart Brunswick Australie, Abend gallery, Zhou B art center Chicago and Robert Lange Studios. This summer she will be an artist in residence in Canada New foundland at Pouch cove and she recently published her first art book about the series of the aging female body which she painted for 10 years.
Education
1999-2003: Free academy The Hague painting
1993-1998: Royal Academy of The Hague direction Monumental design
Artist in Residence
2019 : Pouch cove foundation Canada New foundland
Memberships:
International guild of realisme
Portrait society of America
Poets and artists
Prizes and Nomination
2021: finalist MoD portrait
2021: second prize painting of the year
2020 : Boldbrush award winner december
2019: nominated by the public "artist of the year"
2019: pre selection Figurativas MEAM
2019: competition.net honourable mention
2018: TRAC exhibition Leeuwarden
2017: nominated for Figurativas MEAM Barcelona
2017: nominated for de Portrait Price NL
2010: Talensprijs Pulchri second price
2006: Talensprijs Pulchri third price
Collections
ING Collection, former Scheringa Collection, Van Lien Collection, Tullman Collection Chicago, tiny museum Reflex Modern Galery Amsterdam , collection museum Mohlmann and private collections in- and outside The Netherlands
Fairs
2017: Art Breda, with Galerie Lauswolt
2015: Realism Fair Amsterdam, with Galerie Lauswolt
2012: Realism Fair Amsterdam, with Galerie Mokum
2011: Lineart Art Fair Gent, with Galerie Pinsart
2009: Scope Basel, with Willem Kerseboom Gallery
2009: Art Amsterdam, with Galerie Mokum
Museum Exhibitions
2021: international womensday MEAM Barcelona
2020 Wausau museum USA: Painting the figure now
2019: MEAM Painting today groupexhibition
2019: Groupexhibition Mohlmann museum
2018: Wausau Museum of Contemporary Art, Wausau, US, Painting the figure NOW
2018: Museum Møhlmann, Appingedam, The feminine touch
2015: Museum De Koperen Knop, Hardinxveld Giesendam, Aging men
2014: Museum van Lien, Fijnaart, Surprising visit, with Hester Schroor and Thea Figee
2012: Gemeentemuseum, Den Haag, Public/private
2012: Gemeentemuseum, Den Haag, XXS
2011: Museum van Lien, Fijnaart, From K to Z works from the museum's collection
2009: Scheringa Museum, Opmeer, permanent exhibition museum's own collection
Solo and Duo Exhibitions
2022: solo exhibition Anart San Antonio USA
2017: Gallery Beinart, Brunswick, Australia, met Effie Pryer en Ville Loponen
2011: Galerie Pinsart, Brugge, Above the couch, with Eline Peek
2011: Galerie Mokum, Amsterdam, solo
2009: Galerie Pinsart, Brugge, solo
2008: Pulchri, Den Haag, Beautiful person, solo
2004: Galeria, Entropia Wroclaw, Polen, solo
Group Exhibitions Abroad
2020: James baird gallery : Women exhibition
2020: Abend gallery miniature show
2020: Gallery Stone Sparrow NYC group expo: Sinner or sain
2020: Contemporary narratives Stone Sparrow NY
2020: Abend gallery Small works exhibition
2020: Ardent olders 33 contemporary gallery Chicago
2020: Ambivalence 33 contemporary gallery Chicago
2020: Shelter 33 contemporary Chicago
2020: gallery Stone sparrow NYC Manhattan group expo : Unseen
2017: Gallery Abend, Denver, US, Sight unseen
2016: Mas de les Gralles, Barcelona, Spain
2016: Zhou B Art Center, Chicago, VS, Freak out show
2013: Galerie van Campen & Rochtus Antwerp, Belgium, Begeerte, curator Natasja Bennink
2013: Townsend Atelier, Chattanoga, US, Women painting women [r]evolution
2013: Zhou B Art Center, Chicago, US, From motion to stillness
2010: Robert Lange Studios, Charleston, US
Group Exhibitions Netherlands
2020: stories of the skin : Francien Krieg and members of DSG
2019: Karmelklooster Drachten NL Huidhonger
2019: Gallery Bonnard Grenzeloos with Hanneke Naterop, Pedro quesada and Pam Hawkes
2018 : TRAC exhibition Leeuwarden
2018: Galerie Zofier Mata Hari groepstentoonstelling
2018: groepstentoonstelling Bonnard : Mensen mensen
2015: groepsexpositie : Young and beautifull galerie Nasty Alice
Initiator / Organization Exhibitions
2017: Pulchri, Den Haag, Refigure, group exhibition with Hanneke Naterop, Danielle Luinge, Jantien de Boer, Dorien Plaat, Milan Schmidt, Francien Krieg and Pedro Quesada
2010: Bergkerk Deventer, Broos, group exhibition with Lotta Blokker, Eline Peek, Lita Cabelut, Hester Schroor and Dorien Plaat
Publications
2020: Anuario "Arte y Libertad XV - Galería artelibre
2020: Your best painting Galerie Artelibre
2020: Leonardo Guide galerie Artelibre
2020: The guide artists magazine issue 34
2020: Realisme today: Not above my couch
2020: Fine art connaisseur
2019: Adorn me Poets and artists curator Carol Hodes
2019: Artists on Art: Not Above My Couch
2019: Yoga International 2 page article
2019: Go Wild publication curated by Conor Walton Gormly gallery Ireland
2018: artistmagazine article interview
2018: Dutch art newspaper, article David van der Linden
2017: Millionart Kaleidoscope
2017: Poets and Artists, Fifty great figurative artists, curator Steven Daluz
2017: Poets and Artists, The male muse, curator Didi Menedez