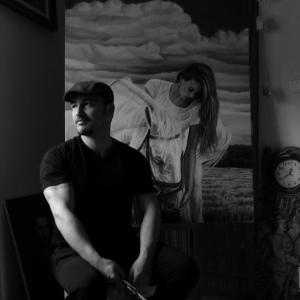 Benkő László



In his paintings, László Benkő searches people's frame of mind, beliefs, relationships, feelings, character shortcomings.
Social affairs, family, effects of the accelerated world on humans. The world of a viewpoint of a woman, a mother ,a child, an artist, a father.
The meaning of our existence. Religion, relationship with God, meeting of belief and man.
What do we transform into by an impact? When do we do good and when do we destroy?
The effect of our decision on our environment and on ourselves.
Stages of our human life, our physical and spiritual progress , our inevitable changes and encounters. In the paintings, choice of objects, pieces of clothing, characters, movements have symbolic meaning, witch, at the end, creates a complete composition, producing a personal view and world.

László Benkő was born in 1979 in Nagykanizsa. He is interested in fine arts, he has been practicing, learning it from a local artist. He is attracted to the realistic figurative portrayal, so he started studying the Florentine academic drawing and painting.
He has been studying and examining the paintings and technics of the old masters. (Benczúr, Zichy, Bouguereau,Caravaggio)

László Benkő exhibited individually and in groups in Budapest,Nagykanizsa,Satu Mare,Transylvania,Athens,Monaco.
El/la autor/a no contiene ningún Curriculum