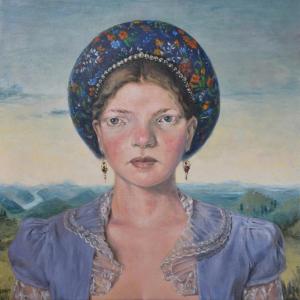 Ravit Plamann-Einhorn



Pais: Alemania
Ravit Plamann Einhorn is a fine art painter living and creating in Berlin. The name 'Frau Einhorn' in German means Ms. Unicorn. A perfect description for her dreamy mode.
Her figurative realist portraits depict women full of classical grace, however imperfect and slightly malformed. To a certain point she paints herself, a longing for something which does not exist, a sense of alienation and the fear of loss. Being loyal to the classical figurative art her works display a strong affiliation to the old masters and 19th century art.
The education she acquired covered various artistic fields like visual communication, theater and classical animation. After working as a graphic designer and illustrator she became fully dedicated to her art.
In the last years she is broadening her techniques with 'Lasurmalerei' - Baroque glaze-painting technique, and 'Window Shading' - classical French 19th century academic method. Soon she is about to begin her studies at the Academy of Fine Art Germany in Bad-Homburg.
Currently Frau Einhorn participates in an exhibition at the European Museum of Modern Art (MEAM) in Barcelona. She also participated in exhibitions in Israel, Italy, Germany. In the 2019 edition of 'Her Story' by Manhattan Arts International she received an Award of Merit.
Group Exhibitions
2022 / The MEAM Hall / MEAM - European Museum of Modern Art / Barcelona
2019 / HER STORY / Manhattan Arts International / NY / Award of Merit
2014 / BAD TASTE / Haute Presents / Berlin
2013 / COMEDIA DEL ARTE / Beit Ariela / Tel-Aviv
2013 / LETTERS FROM IMAGINARY VOYAGE / Okashi Museum / Acre
2012 / THE INSIDE DIALOG / La Macina di SanCresci / Tuscany
2012 / FOOD, NOW / Illustration Biennial #11 / Ra'anana
2012 / SNOW WHITE / Holon Institute of Technology / Holon
2012 / SAFIAH (AFTERGROWTH) / Beit Bialik (Bialik House) / Tel-Aviv
2011 / BATS OF ACRE / Okashi Museum / Acre
2009 / OUT OF THE BOX PROJECT / 100 Years to TLV / Tel-Aviv