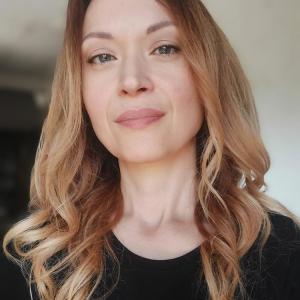 Nadia Ferrante



Pais: ES
Obras en Venta
Obras en Exposición
I'm Nadia ferrante, an Italian artist, born and raised near Rome, I had developed a strong sense of beauty and had shown my artistic streak since childhood. Passionate about art, my favorite artists are the great Italian masters, Caravaggio, Michelangelo, Raphael but over the years I discover Klimt, Degas, and the Pre-Raphaelites with whom I fall madly in love. During my adolescence I attended a drawing and painting course but her course of studies is rather classic and distant from art. In the following years I had to put this passion aside for a long time, for family matters, and after a bad period, and a serious bereavement a few years ago, I began to think about what was most important in my life, the passion for art has reignited overwhelmingly and creativity has become a necessity. Over time I deepens my knowledge of the main techniques I use, soft pastels, oil colors and graphite, alone, and I am mainly interested in portraiture and figurative representation. I work a lot on private commissions, but the long period of the lockdown due to the pandemic has given me the impetus to try to prove myself with competitions and exhibitions. I expresse myself mainly with dry pastels, pastel pencils and in the three-color technique, since I feel that with this I am able to better match my intentions with the result of the finished work.
In my paintings and drawings, I builds an emotional and psychological dialogue with the viewer, in which I try to probe the various nuances of the emotions of the human being. Like artist I create unfinished stories by immersing myself in my own inner world, involving the spectators by often portraying the characters of my works with a direct gaze to the observer, and thus revealing all the hidden emotions and feelings they evoke in the spectators. My style can be described as imaginative realism and my characters emerge dramatic and immersed in an enigmatic and intellectually rich context of philosophical contents that stimulate the most curious minds. I deal with issues related to the present, our society and its contradictions, but I also loves classical themes and those linked to the tradition of Italian art.
I present the viewer with my own concept of beauty and emotionality, drama and sensuality.
Exhibitions in local gallery
Artworks in private collections and commissioned works in Italy
my works are in the publications of the special Modportrait 2020 catalog
Guia Leonardo 2021
Guia Leonardo 2022
The guide artists magazine n 48