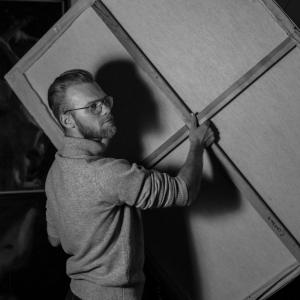 Mikhail Solovev



Pais: RU
Mike Sol was born on July 21, 1991, in Vladivostok, a remote eastern city of Russia. In 2008, he got into the Vladivostok Art College and became a teacher of fine arts.
After that in 2014, he entered the Ilya Repin St. Petersburg State Academic Institute for Painting, Sculpture and Architecture, the Department of Painting. The Academy of Arts opened up a new world and access to knowledge about art for him.
Mikhail managed to study in several workshops there: of K.V. Grachev (2014-2015), of Professor I.G. Uralov (2015-2016), an easel workshop under the guidance of Professor Y.V. Kalyuta (2016-2018), and another one of Professor and Head of the Department of Painting – V.S. Pesikov (2018-2021).
In 2021, he graduated from the Academy of Arts and founded his own studio, which attracts artists from all over Russia and abroad to study. Now the main paintings are in Chicago and Madrid.
In regards to the artworks of Mikhail Sol, one must firstly mention the serious academic training of the artist, which allows him to freely model forms, build expressive compositions, and, most importantly, focus on the corporality and materiality of models. Mikhail, like many modernists, does not break away from the legacy of the old masters. He boldly uses typical themes, but includes them in a modern context, thus giving additional relevance to the problem depicted. When reading these themes, well-known from the works of Poussin, Caravaggio and Delacroix, the viewer subconsciously enters a different level of perception. He sympathizes more with the characters and is more attentively immersed in the main conflict of the work, with each minute more and more clearly feeling the artist's sardonicism of the mismatch between dreams and reality. This feeling is enhanced by dynamic strokes, bright saturated colors based on contrasts of light and shadow, and a somewhat generalized brushwork. Thus, the painter's works, filled with vivid characters, interest in the human personality, the search for a spiritual ideal, express a protest against the surrounding reality.
list of exhibitions
2023 - "Exhibition of diploma works of students of art universities". Tretyakov Museum, Krymsky Val. Moscow
2022 - "Love. Death. Virgo", Artefice, Saint-Petersburg
2022 - Exhibition of diplomas of the Academy of Arts, Minsk, Belarus
2021 - Joining the Union of Artists, St. Petersburg
2020 - "Here rests the classics", collective exhibition of graduates of the workshop of V. S. Pesikov, Villa Vitali, St. Petersburg
2019 - "Natural class", IEC Petersburg Artist, St. Petersburg
2018 - Fifth All-Russian competition of young artists "Muse must work", Artmuza, St. Petersburg
2017 The roads of Peter I. White Hall of the Representative Office of the Ministry of Foreign Affairs of Russia in St. Petersburg, Saint-Petersburg