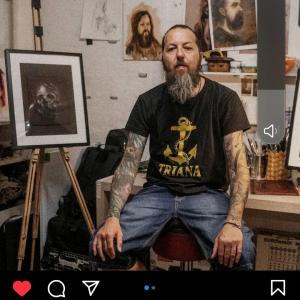 Miguel Diaz Franch



Pais: ES
Obras en Venta
Obras en Exposición
Multidisciplinary Artist
instagram:@mikelbasquiat
Painter member in Yvapuru Atelier (Helsinki Finland)
Student in HERA ATELIER of representational art Helsinki
Miguel Diaz is a visual artist who works in a variety of mixed works. He has trained between Valencia, Barcelona, and Helsinki, exhibiting since 2007. He has studied Arts in Valencia and Barcelona in private academies and art studios where he has collaborated as a working member.
His expressive versatility is displayed as a draftsman, painter in different techniques such as watercolor, oil, mural painting and tattoo art. Long working experience in the fashion beauty sector.
The relationship with life and the channels of expression that I am acquiring with the search to grow as a professional in the plastic arts serves as feedback to develop my work both in context and technically.
SOLO EXHIBITIONS
2007 - Serie collaboration with Norton Nox in ARTICO Valencia Spain,
2008 - SERIE PAINT OF SKATE in Direccion prohibida Tattoo studio Valencia Spain
2009 - Expo painter Black Gold in Laika restaurant Valencia Spain
2009 - Collective exhibition with Zulo 13 in Bigornia club Valencia Spain.1
2013 - Individual exhibition of paints in restaurant IO Valencia Spain.
2014 - WALL Paints in Magia Roja Barcelona Spain.
2015 - Individual exhibition paintings in Pomade Barcelona Spain.
2016/2018 -Musician Art work in Guarro Martinez Barcelona Spain.
2021- ART TAKE AWAY. project to sale my art in DANDY Helsinki Finland.
2021-Collective exhibition YVAPURU ATELIER with the collective Pehmea Vandalism (Helsinki)
2022- Study in HERA Atelier of representational art.
2022-Collective exhibition gallery Lapinlahti whit Hera Helsinki atelier.
2022-Solo exhibition "La leyenda del tiempo" Global art Point (Helsinki)
2023-Exhibition "Una timida mirada al pasado" oil paintings at Vinolito Helsinki.
2023 -Exhibition "La fabula" oil paintings at Casa Haga (Helsinki)
2023-Art market HIIAB artist association of Finland (Helsinki)
2023-Art market Cool Head Brew (Helsinki)
2023-Art market Kallio Block Party (Helsinki)
2023-Workshop collage Helsinki urban art (Helsinki)
2023-Artist in Guia Leonardo 2023