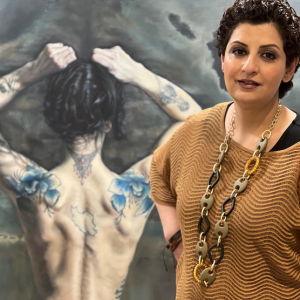 Golnaz Khadivi Zand



Pais: IR
Golnaz Khadivi Zand is an Iranian-Canadian artist whose work explores migration experiences, specifically the challenges she and other women have faced when immigrating to Canada. Golnaz's recent painting collection realistically depicts her family and friends surrounded by patterns, textures and abstract elements with links to the beliefs, values, and traditions of her Middle Eastern upbringing.
The frame is a recurring motif in her work signifying the restrictions placed on women immigrating from different countries, who are fighting for their autonomy and freeing themselves from the social norms and cultural restrictions that have confined them. Her paintings draw inspiration from Eastern and Western cultures, including the surrealism of artists like Salvador Dali, Andre Breton, and Chiharu Shiota as well as Persian philosophical poets Rumi and Hafez.
Golnaz has received numerous awards for her artwork and has exhibited in Canada, Switzerland, Spain, and Iran. She is an elected member of the Society of Canadian Artists, the Ontario Society of Artists, and the Colour and Form Society.
Prior to pursuing art, Golnaz earned a masters degree in Architecture from the Azad University of Tehran, and taught Architecture for eight years at the Islamic Azad University of Mashhad, in Iran. In 2018, Golnaz devoted herself fully to painting professionally and teaching oil painting and drawing at Violet Art Studio in Toronto, Ontario.
CV
Golnaz Khadivi Zand (b. 1974 Tehran, Iran)
Currently based in Toronto, Canada

Exhibitions
2023 - Academy of Realist Art Toronto Spring Exhibition, Joseph D. Carrier Art Gallery, Toronto, Canada
2023 - Colour and Form Society Members' Exhibition, Neilson Park Creative Centre Gallery, Toronto, Canada
2023 - Open International Online Juried Exhibition, Society of Canadian Artists, Canada
2023 - The MEAM Hall, Third Edition, European Museum of Modern Art in Barcelona, Spain
2023 - Colour and Form Society's 70th Anniversary Members' Exhibition, Joseph D. Carrier Gallery, Toronto, Canada
2022 - The Markham Group of Artists Windows Open, Markham, Canada
2022 - On the Edge, 20th Annual International Exhibition and Competition, Federation of Canadian Artists,
Vancouver, Canada
2022 - Reflection: Our Roots and Our Times, Colour and Form Society Member's Exhibition, Brampton, Canada
2022 - Open International Online Juried Exhibition, Society of Canadian Artists, Canada
2021 - 69th Annual Exhibition, Colour and Form Society, Etobicoke Civic Centre Art Gallery, Etobicoke, Canada
2021 - The Markham Group of Artists Windows Open, Markham, Canada
2021 - 53th Open International Online Juried Exhibition, Society of Canadian Artists, Canada
2021 - Drawing 2021 Catalog, John B. Aird Gallery, Toronto, Canada
2021 - Richmond Hill Art Walk, Richmond Hill Centre for the Performing Arts, Richmond Hill, Canada
2021 - First Artist of the Month Online Feature, IBEX Art Insiders Instagram
2021 - Richmond Hill Art Walk, Richmond Hill Centre for the Performing Arts, Richmond Hill, Canada
2020 - 68th Annual Exhibition, Colour and Form Society, Toronto, Canada
2020 - The Markham Group of Artists Windows Open, Markham, Canada
2020 - Artbox Project SWISSARTEXPO, SBB event hall in Zurich's Train Station, Zurich, Switzerland
Awards
2023 - Winner, Third Place, Colour and Form Society Members' Exhibition, Neilson Park Creative Centre Gallery,
Toronto, Canada
2023 - Selected for the special edition of the ModPortrait 2022 Leonardo Catalogue, The MEAM Hall, Third Edition,
European Museum of Modern Art in Barcelona, Spain
2023 - Special Mention, Colour and Form Society's 70th Anniversary Members' Exhibition, Joseph D. Carrier Gallery,
Toronto, Canada
2022 - Best in Show Award, The Markham Group of Artists Windows Open, Markham, Canada
2022 - Winner, First Place, Reflection: Our Roots and Our Times, Colour and Form Society Member's Exhibition,
Brampton, Canada
2020 - Member Award, The Markham Group of Artists Windows Open, Markham, Canada
2020 - Certificate of Artistic Achievement, Luxembourg Art Prize Certificate, Luxembourg
2020 - Certificate of Acceptance, Artbox Project SWISSARTEXPO, Zurich, Switzerland
Education
2022 - Lucas Keratockwil Landscape Painting Certificate, Vancouver, Canada
2021 - Academy of Realist Art, Toronto, Canada
Enrolled in the academic painting and drawing curriculum since 2019, 2020, 2021
In the Studios of Bouguereau Workshop with Director and Principal Instructor Fernando Freitas
2013 - General Arts — English for Academic Purposes (GEA), Seneca College, Toronto, Canada
2001 - Masters in Architectural Engineering, Islamic Azad University, Central Tehran Branch, Iran
Elected Memberships
Colour and Form Society (CFS)
Ontario Society of Artists (OSA)
Society of Canadian Artists (SCA)
Teaching
2022 - Volunteer Art Workshop, North York Community Centre, North York, Canada
2018 - Present - Art Instructor, Violet Art Studio, Toronto, Canada
2001 - 2018 - Instructor, Faculty of Art and Architecture, Islamic Azad University of Mashhad, Iran