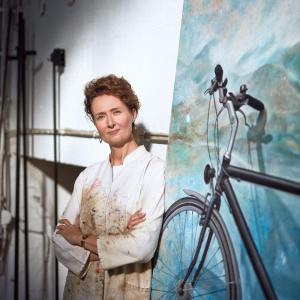 Anikó Boda



Pais: HU
Obras en Venta
Obras en Exposición
Anikó Boda studied at the School of Visual Arts and The Art Students' League in New York after graduating from the Medical University of Szeged in Hungary. She exhibited in one of the major institutions of figurative art MEAM (Museu Europeu d' Art Modern) in Barcelona, besides in New York, London, Prague and Budapest.
Resonating across time with the traditional painting schools of Florence and St. Petersburg, Michael Trieger's precise technique and the spirit of contemporary artists like Odd Nerdrum, Boda's update of trompe l'oleil painting reflects the process of its making. With a penchant for experimentation, Boda expands her repertoire of painterly media. And then she deploys her 'inventions' creating fresco-like 'weatherbeaten' surfaces and lively objects. Her iconoclastic work is based on general psychological and philosophical questions of human existence, but always with a twist, as she refers to it:
"Sometimes we like to take certain truths granted. I like to dissect these traditional values, examine them from multiple points of view and turn them into pictures"
Anikó Boda painter
Born 1973, Szeged, Hungary
Lives and works in Gödöllő and Budapest (Budapest Art Factory).
Studies
2021: Budapest Art Mentor (Art management)
2013-2018: Schatz Studio
2006-2009: Hungarian Academy of Fine Arts (Master: Orshi Drozdik)
2003-2005: School of Visual Arts (SVA) New York, NY
2003-2005: The Art Students' League, New York, NY
1991-1998: Albert Szent-Györgyi Medical University, general medicine
Exhibitions
2022 – Royal Portrait Painters Society (Great Britain) annual show – semifinalist
2022 – Museu Europeu d'Art Modern (Barcelona, Spain) – MEAM Hall
2022 – Manhattan Arts International 'HerStory', group show
2021 – Budapest Art Factory 'About Fate' Solo show
2021 – Dunartcom International Symposium (Samorin, Slovakia)
2021 – Museu Europeu d'Art Modern (Barcelona, Spain) – Lohengrin show
2014 – Autumn Show (Museum Tornyai, Hódmezővásárhely, Hungary)
2014 – Gallery Bartók11 (Budapest, Hungary)
2013 – Institute of Hungarian Culture (London, Great-Britain)
2013 – Feminine and masculine' (MODEM, Debrecen)
2012 – Autumn Show (Museum Tornyai, Hódmezővásárhely, Hungary)
2012 – Institute of Hungarian Culture (Prague, Czech Republic)
2005 - Art Students League (New York, USA)
2004 - Art Students League (New York, USA)
Prizes
2014: Podmaniczky-prize (Hungaria Nostra)
2012: Supporter's special prize, 59. Autumn show, Museum Tornyai
2005: "Blue dot-award" Art Students' League
2004: "Blue dot-award" Art Students' League
Publications
Rieder Gábor 2012. Before a jubilee, in 59. Autumn Show, Museum Tornyai
Prof. Katharina Wagner 2020. Lohengrin, in Lohengrin, painting interprets Wagnerian drama,
Ediciones de la Fundació de les Arts i les Artistes
Printed Catalogues
2021: Galeria Artelibre (Zaragoza, Spain) Modportrait Special Catalogue (With Museu Europeu d'Art Modern)
2020: Galeria Artelibre (Zaragoza, Spain) Modportrait Special Catalogue, (With Museu Europeu d'Art Modern)
2020: Lohengrin, Painting interprets Wagnerian Drama, Museu Europeu d'Art Modern
2014: 61. Őszi Tárlat, Tornyai János Múzeum
2012: 59. Őszi Tárlat, Tornyai János Múzeum