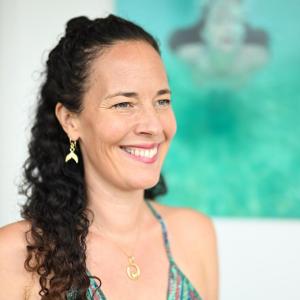 Alexandra Telgmann



Pais: ES
"THE NATURE ELEMENT OF WATER IN ALL ITS BEAUTY, POWER, ELEGANCE AND ADAPTABLE IS MY SOURCE OF INSPIRATION"
Alexandra's work specializes in the natural interaction between the female body and the element of water. The deep connection between the artist and the sea is visible in many of Alexandra's paintings. For her, the sea is a decelerating place of power that creates inner peace and at the same time reflects states of consciousness of one's own life. As she portrays the ocean and it's wildlife in all their beauty, she creates a conscious wake up call for their necessary protection. Which is an intention always being represented in her work.
The beginnings of Alexandra Telgmann's artistic work were influenced in her childhood by her father, a renowned goldsmith artist. After she earned her master's degree in goldsmithing, she further studied portrait and life painting at the College of Art and Design in Savannah, USA and redirected her artistic career. She has since held numerous international and national exhibitions in cities such as New York, Charleston, Las Vegas, Colorado Springs, Paris, Munich, and Leipzig; her first solo exhibition being "Laconella" at the Pinnacle Gallery/Savannah USA. As a new and exciting project, she was asked to design a stage design for the ballet "Men and Women" for the Oldenburgische Staatstheater in cooperation with choreographer Antoine Jully. She also works as a visiting lecturer in the United States and France for the Savannah College of Art and Design. Additionally, Alexandra Telgmann is a member of the Portrait Society of America. Her oil paintings are currently represented by the Grand Bohemian Gallery in Charleston/USA, the 33rd Contemporary Art Gallery in Chicago, and the MEAM museum in Barcelona/Spain.
Exhibitions
Gallery Presence
upcoming:
Finalist Exhibition of the 6th NTD Figure Painting Competion New York in late 2023
upcoming:
MEAMHALL - Museu Europeu d'Art Modern in Barcelona/Spain - oilpainting
Golden Ocean Reflection - Serenity
upcominng:
Scholarship Rome Art Residence - Rom/ Italy
3/2023
Finalist of the NTD 6th international Figure Painting competition New York
01/2023
Pictor Gallery New York/USA groupshow with 23 artists of the gallery : Galeria Artelibe Barcelona/Spain
12 /2022
Finalist of the 18th Portrait Society Member Only Competition in the category Animal as the Subject with the oil paining: Golden Ocean Reflection - Shark
09/2022
Semi Finalist in the Art Renewal Center 16th international ARC Salon in the figurative category.
09/2022 - 03/2023
The "Museu Europeu d'Art Modern" in Barcelona/Spain is showing my painting Golden Ocean Reflection "Rise". The exhibition starts at the 16h of September till the 17th of March 2023.
01/ 2022
Feature 03/2022 in them museum catalogue Modportrait from the MEAM ( museu Europeu`d Art Modern ) and Galerie Artelibre Barcelona/Spain
04/ 2021
Feature in the museum catalogue Modportrait from MEAM ( museu Europeu d´Art Modern) and Galerie Artelibre Barcelona/Spain

11 / 2020
Exhibition Galerie Sonia Monti - Paris/France

06 / 2020
Featured on the Chinese Art platform Clatia in the online exhibition:" Your best painting ". An exhibition about great figurative and realistic art.

04 / 2020
Featured in the book: "Your best painting" from MEAM ( European Museum of Modern Art ) Barcelona and Artelibre Gallery
03 / 2017
Gallery Presence Grand Bohemian Gallery/South Carolina/USA
02 / 2017
Exhibition " Forest to Studio " Wild - life Grand Bohemian Gallery Kessler Collection, South Carolina/USA

4/2017
Stage design for Antoine Jullys Ballett: Men and Women Staatstheater Oldenburg/Germany
www.staatstheater.de/menandwomen.html
03/2017
Gallery Presence Grand Bohemian Gallery, South Carolina/USA
02/2017
Exhibition "Forest into Studio" Grand Bohemian Gallery, South Carolina/USA
04/2014

Gallery Presence Broadmoore Gallery, Colorado Springs/USA

03/2014 Exhibition

Golden Power Art Room Gallery Kamen/Germany

06/2012 – 6/2014

Collaboration with six other artists in Art Room Gallery Kamen/Germany

11/2012 Exhibition

Engel Gestalten Art Room Gallery Kamen/Germany

10/2012
Guest lecturer at the Savannah College of Art and Design in Lacoste, France
in cooperation with Prof. Sandra Reed (USA)

11/2011

Group exhibition: Der Engel Atelierhaus/Gallery Westfalenhütte Dortmund/Germany

09/2009

Group exhibition: Der Engel Museum ( museum) Bergkamen/Germany

10/2008

Member of the Portrait Society of America

05/2006

Individual exhibition: Laconella - Pinnacle Gallery Savannah/USA

04/2006

Guest lecturer at the Savannah College of Art and Design/USA

05/2004 Exhibition

Connection in the Galerie Cultur and Economic in Minden/Germany
with Stephanie Telgmann

03/2004

JCK, Las Vegas/USA

09/2002

3rd place in the international competition: Schmuck im Zeichen neuer Werte (Jewelry Marking New Values) – der GZ Stuttgart (jewelery magazine)/Germany

2002

Group exhibition Midora Design Award – Design Forum Halle – Leipzig/ Germany

1998

Group exhibition design forum – Hanau, Galerie Kleinkariert – Wiesbaden und Galerie Treibholz-Dresde/Germany

1997

Inclusion in the De Beers Collection: Diamanten Heute (Diamonds Today) and exhibition in the Munich Art House/Germany

1996

2nd place in the competition Hollow Bodies Münster/Germany